Superhero runner Jamie McDonald has homecoming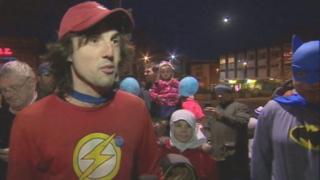 A homecoming celebration has been held in Gloucester for the first person to run coast-to-coast across Canada without support.
Jamie McDonald, 27, from Gloucester, reached the Pacific Ocean 275 days after dipping his hand in the Atlantic.
He ran 5,000 miles (8,000km) - the equivalent of 200 marathons - dressed as comic book superhero The Flash.
An official celebration was held at Gloucester Cathedral with superhero outfits "optional but preferred".
Jamie said: "It's completely surreal. I've just been putting one foot in front of the other and that's it, so to see everyone...I'm so overwhelmed".
Jamie also revealed that he'd had royal support from Prince Harry who "sent me a letter saying they were aware of what I'd done - that's mind blowing".
During the charity challenge Mr McDonald wore out 10 pairs of trainers, slept rough and endured temperatures as low as -40C (-40F).
He suffered frostbite to his nose and at one point thought he was going to lose it, has permanently injured and misshapen his foot and over the new year was beaten and robbed in Banff, Alberta.
But he has also raised more than £100,000 for charity.
'Mum washed costume'
His publicist Rich Leigh said Mr McDonald had been reluctant to take off his superhero costume despite it being a "mess".
"It's not been washed for seven months, there's holes in it and it stinks," he said.
"He wanted to keep it really authentic but his mum insisted that she wash it before the celebrations."
Fans across Canada who will be trying to follow the celebrations online.
Sylvia Rolfe Bennett, from Newfoundland, said she hoped to "enjoy being a part of his celebrations" with regular postings online.
"He's more than a superhero," she said. "He's a giant among men and we love him."