Gloucestershire drivers warned not to drive on roads closed by floods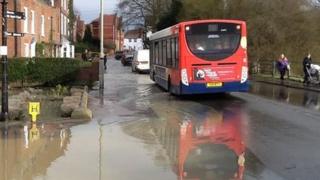 Drivers in flooded parts of Gloucestershire are being warned by police not to ignore road closure signs.
Police said waves of water were being pushed into some homes in Tewkesbury by people driving down streets which had been shut.
Insp Brian Murnaghan said "irresponsible" drivers were exacerbating the situation.
Further rain has been forecast for the area over the next few days.
Insp Murnaghan said: "Some inconsiderate and some irresponsible drivers are ignoring road closure signs.
"This creates what we call a bow wave - vehicles going through the floods at speed which creates basically a wave - and that just exacerbates the situation in terms of dwellings getting flooded."
The Environment Agency has warned water levels in flood-hit parts of Gloucestershire are expected to rise by a further 30cm (12in).
Twelve flood warnings remain in place, on the rivers Severn from Tewkesbury to Gloucester, and on the Wye at Lydbrook.
The agency has said water levels will stay high for "quite some time".