Gloucestershire floods: Sandhurst families rescued by boat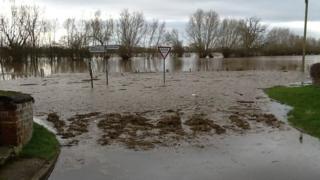 Five adults, three children and three dogs have been evacuated by boat from flooded homes in Gloucester.
Water outside the terraced houses in Sandhurst was waist deep and rescued families were "completely fed up", the Severn Area Rescue Association said.
The Environment Agency said 56 properties in the county were flooded.
Water from the swollen River Severn has also spilled on to a number of roads around the Gloucester and Tewkesbury areas, causing them to be closed.
'Write-off'
Graeme Brooks, from the Severn Area Rescue Association (SARA), described the scene on Sandhurst Lane as "pretty grim".
He said the downstairs of one of the flooded homes, from which one of the families was evacuated, "was a write-off".
"My guess is they were living upstairs as it was uninhabitable downstairs," he said.
In Tewkesbury, the borough council made sandbags available to at-risk homes including in the village of Chaceley.
But there have been reports of sandbags being stolen in the town.
Pat Newman, who lives in Fletchers Alley off Barton Street, said: "They're becoming like gold dust.
"Every we time we put our sandbags out they are being stolen, which is the sickest and cruellest thing you can do to anybody. We've had about a dozen stolen."
In response, Councillor Vernon Smith said: "That's disgraceful, it's appalling.
"Anyone who is in need of sandbags should get in touch with Tewkesbury Borough Council or the county council."
Water levels in the area are predicted to rise over the next few days as water in the River Severn flows south from the Midlands.