Cheltenham lapdancers' 'heavy' Alex Morris jailed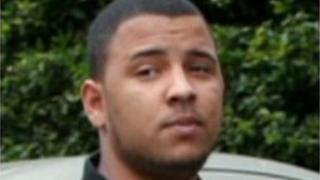 A man has been jailed for three years for robbing a nightclub boss who claimed he had been kidnapped by a group of lapdancers.
Alexander Morris, 23, from Southampton, was accused of acting as a "heavy" for three lapdancers and their manager who were all cleared of kidnapping Curtis Woodman in Tewkesbury, Gloucestershire.
Morris was also cleared of kidnapping but convicted of robbing Mr Woodman of a £4,650 watch and £60 cash.
He also admitted carrying a knife.
Martin Steen, prosecuting, told Bristol Crown Court the watch was found on Morris when he was arrested.
'Invented' kidnap
Mr Woodman had accused the group - including dancers Mandy Cool, Rachel Goodchild, Stephanie Pye, and their manager DJ Charlotte Devaney - of forcing him into a car and robbing him in September 2012.
The women had worked for Mr Woodman at his pop-up nightclub during the Cheltenham Festival.
Ms Devaney told the jury Mr Woodman had "invented the kidnap" to avoid paying them more than £42,000.
Ms Cool, 29, of Southampton, Ms Goodchild, 24, also from Southampton, Ms Pye, 31, from Sutton Coldfield and Ms Devaney, from London, were cleared of kidnap.
Morris's brother, Robert, 27, from Southampton, was cleared of kidnap and two counts of robbery.