Tourism fears as Oxfordshire council takes on Cotswold brief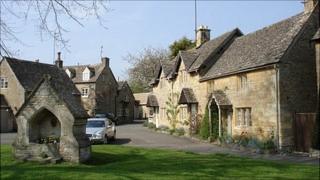 Concerns have been raised over plans for West Oxfordshire Council to partly manage tourism in Gloucestershire.
From April, local authorities including West Oxfordshire Council are to take over Cotswolds Tourism from local enterprise partnership GFirst.
David Owen, from GFirst, said the Cotswolds includes West Oxfordshire and involving the council was "good news".
But Gloucester Cathedral's Sandy Conway said people in the county "should be responsible for marketing the county".
Local authorities including West Oxfordshire, Cheltenham, Cotswold, Gloucester, Tewkesbury and Stroud will work in partnership with the Cotswold AONB to promote the Cotswolds.
But Ms Conway said managing the area's tourism "needs a dedicated group who know what they're talking about".
"It's nice and helpful that outside boundaries are coming in to help," she said.
"But ultimately we should be responsible for marketing the county ourselves."
'One single brand'
But Mr Owen said it was important for "all of the partners" to get behind "one single brand that the Cotswolds offers".
"From the tourist's perspective they see the Cotswolds as an area that's much bigger than Gloucestershire," he said.
"So what we're doing is working with partners right across Cotswolds tourism to make sure there is a seamless service."
In a statement, Cotswold District Council said a small team of tourism officers had already been established to "manage the smooth transition from GFirst".