Cross-Canada runner Jamie McDonald reaches challenge end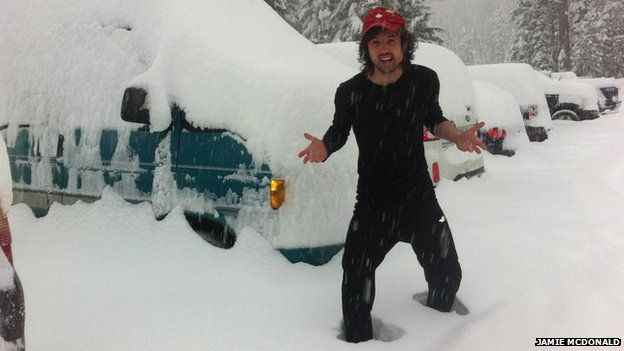 An adventurer who has spent almost a year running across Canada has reached Vancouver to complete a 5,000-mile (8,000km) charity challenge.
Jamie McDonald, 27, from Gloucester, reached the Pacific Ocean 275 days after dipping his hand into the Atlantic.
He is believed to be the first person to complete the coast-to-coast journey without support.
After crossing the finish line he said he was "ecstatic".
He said: "I just can't believe it's over. I have worked for so long and given this run everything I have, physically and mentally, that to finally dip my hand into the Pacific Ocean eleven months and more than 200 marathons after doing the same thing in the Atlantic Ocean is just incredible.
"I feel a real mix of emotions. I'm ecstatic that I have finished."
He said encouragement from the UK and Canada had been "phenomenal".
During the journey Mr McDonald has worn through 10 pairs of trainers and slept rough.
While celebrating the new year in Banff, Alberta, he was beaten and robbed of his bag that was later found, still with his film footage, cash and credit cards inside.
He has also battled temperatures of -40C (-40F), permanently injured and misshapen his foot and given motivational talks at dozens of schools.
"Before I started, I was asked how I'd prepare for the more than 5,000 miles that lay ahead of me," he said last week.
"I answered truthfully and said that I wouldn't - no amount of training or planning could have prepared me for this journey."
Since he began at St John's in Newfoundland on 9 March Mr McDonald has run most of the way dressed as comic book superhero The Flash.
His possessions have been pushed in a 60kg (132lb) buggy after his original backpack plan failed due to injury.
He has carried out the fundraising challenge to show gratitude for the care he received as a child when he suffered from a debilitating immune deficiency and a rare spinal condition called syringomyelia.
Mr McDonald will remain in Vancouver to attend fundraising events before returning to the UK next week.
He has raised more than £100,000 for charities including Great Ormond Street Children's Charity and the Pied Piper Appeal.
A celebration of his achievements, and medal presentation, are being planned for 13 February in his home city of Gloucester.
Related Internet Links
The BBC is not responsible for the content of external sites.