Severn Bore spectators criticised for being 'too close' to river bank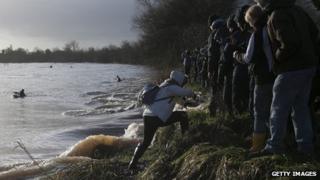 People watching kayakers and surfers riding a wave known as the Severn Bore have been criticised by the Environment Agency for being "too close".
Three severe flood warnings were in place at the Severn in Gloucestershire, meaning lives were in danger.
Despite the alerts, the agency said onlookers stood "too close to the river".
Chris Bainger said: "Lives are at risk here and we wanted to get people off that bank and they were unwilling."
Mr Bainger, from the agency, added: "We had a bit of a struggle there, really to get the key message out to people.
"The Environment Agency staff have stepped up to the mark and they've managed to move them on, which is really important."
Some riverside properties at Minsterworth were flooded following the five-star bore, which struck earlier.
Since the bore struck, the number of severe flood warnings along the Severn has been reduced to two.
Gloucestershire Police said roads had also been affected, with some being closed.
On Saturday the A48 near Minsterworth was shut for "a short period" after a combined bore and tidal surge caused flooding.
They said some roads remained closed including the A417 to Maisemore from the junction with A40 at Over roundabout.
The B4213 at Haw Bridge in Tirley also remained closed, the police said.
A three-star bore is expected at Minsterworth at 22:00 GMT.
Nine flood warnings are also still in place across the county.