A417 campaign secures cross party support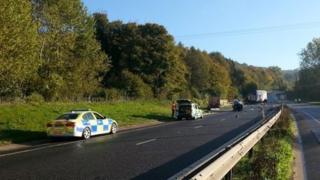 A campaign for a "missing link" on the A417 in Gloucestershire has gained cross-party county council support.
The authority's political party leaders have backed the idea of the A417 Loop - a proposed dual carriageway to bypass an accident blackspot.
Campaigners want a stretch of road near Birdlip, dubbed the "road to hell", to be added to the Highways Agency's list of road scheme priorities.
There have been over 340 casualties on the road in the past 15 years.
Since the campaign began two weeks ago more than 2,000 people have pledged their support.
The route, which connects the M4 near Swindon to the M5 near Gloucester, is used by 34,000 vehicles daily - many of them HGVs.
Bottlenecks regularly occur where the existing dual carriageway is reduced to a single lane, and the road has the worst average vehicle delay of all strategic routes in the South West.
Three people were killed on the road in one day in November.
Councillor Colin Hay (Liberal Democrat), Councillor Lesley Williams (Labour), Councillor Mark Hawthorne (Conservative) and Councillor David Prince (Independent) have all pledged their support for the campaign - asking for the government to provide £255m to address the problem.
The route has been dubbed "the road to hell" by Liberal Democrat councillor for the area, Paul Hodgkinson, who believes radical action is needed to rid the area of accidents, pollution and congestion "once and for all".
The Highways Agency is due to announce its road scheme priorities at the end of March.