Cheltenham 'kidnapping lapdancers' trial jury retires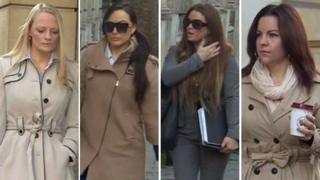 The jury in the trial of three lapdancers and their manager accused of kidnapping a Gloucestershire club boss has retired to consider its verdict.
Curtis Woodman claims the four women and two "heavies" forced him into a car and subjected him to a two-hour ordeal during which he was robbed.
Bristol Crown Court heard he failed to pay £42,000 to the women who worked for him during the National Hunt Festival.
The women deny kidnapping Mr Woodman on 3 September 2012.
'Nipple tassels' rule
During the trial, which began three weeks ago, Mr Woodman said he was bundled into a car, threatened with a knife, and robbed of £60 cash and his £4,650 Breitling watch.
He also claimed he was made to transfer £4,800 into the bank account of Charlotte Devaney, the dancers' manager.
The court was told Mr Woodman had refused to pay the women as they failed to comply with the terms of their contracts, which stipulated they would wear "bikinis and nipple tassels at all times".
Ms Devaney, 34, from London, told the jury he had "invented" the kidnap to avoid paying the women.
During cross-examination he was accused of lying and described as a "cowboy" for not running a proper establishment and "trying to skirt round the rules and blame the girls".
Mr Woodman had employed Mandy Cool, 29, of Southampton; Rachel Goodchild, 24, of Southampton; Stephanie Pye, 31, from Sutton Coldfield and Ms Devaney to work for him at a club he rented in Cheltenham.
Two brothers who are accused of accompanying the women during the alleged kidnap - Robert Morris, 27, and Alexander Morris, 23 - deny charges of robbery and kidnap.
The jury retired to consider its verdicts at 15:00 GMT.