Lapdancers kidnapping of Cheltenham club boss 'pure fantasy'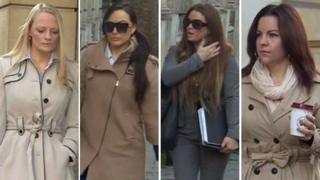 A claim that three lapdancers kidnapped and robbed a Cheltenham nightclub boss is "a fantasy", a court has heard.
The dancers and their manager Charlotte Devaney, who worked for Curtis Woodman during the National Hunt Festival, deny kidnapping him on 3 September 2012.
Mr Woodman, 34, allegedly refused to pay the group £42,000 for wages owed.
Ms Devaney's lawyer told Bristol Crown Court many men would regard the idea of being kidnapped by lapdancers as "pure fantasy and their idea of heaven".
'Nipple tassels' rule
However the court had previously heard claims from Mr Woodman that he was forced into a car and, during a two-hour ordeal, robbed of £60 in cash, his £4,650 Breitling watch, and forced to transfer £4,800 to Ms Devaney.
He said he had refused to pay the women because they had stripped off, breaking the club's licence and their contracts which stipulated they would wear "bikinis and nipple tassels at all times".
This led to the closure of the pop-up club which was being operated by Mr Woodman during the National Hunt Festival in March that year.
"The Crown's case is a fantasy," said defence lawyer Garry Green - acting on behalf of Ms Devaney - in his closing speech to the court.
"It is only true for the wildest of imaginations and certainly not sufficient for a conviction in this case," he said.
"Mr Woodman wouldn't know the truth from a bar of soap.
"I hope you agree he was generally a shady character that told a number of lies - quite good lies, actually."
'Rod Stewart renditions'
The jury also heard the £42,000 of disputed cash related to one customer, named only as Steve, who spent six hours with lapdancers in the Embassy Club.
Mr Green added: "Steve has been reading the coverage and he is not a happy man.
"He's saying '£5,000 for being kidnapped by four girls? I paid over £40,000 to listen to 'If you think I'm sexy and you want my body come on sugar tell me so' and other badly sung Rod Stewart renditions'."
The court was previously told Ms Devaney, 34, from London, had recruited some 60 women to work at the club, and 19 had been left unpaid after its closure.
She had confronted Mr Woodman at his work in Tewkesbury along with lapdancers Mandy Cool, 29, Stephanie Pye, 31, Rachel Goodchild, 24 and brothers Robert, 27, and Alexander Morris, 23.
Mr Woodman claims he was surrounded by the group, bundled into a car, threatened with a Stanley knife and driven around Cheltenham for two hours before being released.
He also alleges he was kicked and punched by Robert Morris, who denies two charges of robbery.
Alexander Morris has admitted carrying a Stanley knife on that day but also denies two charges of robbery.
Ms Devaney, from London; Ms Pye, from Sutton Coldfield; Ms Cool, of Southampton; and Ms Goodchild, of Southampton, each deny a charge of kidnap.
The trial continues.