Tenancy fraud scheme 'frees up' Gloucestershire social housing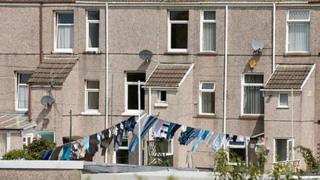 A scheme to provide social housing for "people who genuinely need it" has seen fraudulent tenants evicted from up to 70 homes in Gloucestershire.
The Gloucestershire Tenancy Fraud Forum (GTFF) has dealt with 132 cases of fraud since it was set up in April.
The forum has dealt with cases of keys being sold, illegal subletting and claims of succession being wrongly made after someone has died.
Chairman Kevin Topping said the aim was to "make the best use of the housing".
The GTFF has also dealt with cases of property abandonment and obtaining homes by deception since it was began its work.
Mr Topping said Stroud District Council had to "ensure that [housing] is occupied by those who are legally entitled to do so".
"There isn't enough social housing to meet the needs of people who genuinely need it.
"People waiting for social housing will have to wait even longer if homes continue to be occupied by those who have no right to be there."
Alongside the council, six other social housing landlords - Rooftop Housing, Severn Vale Housing, Guinness Hermitage, Gloucester City Homes, Cheltenham Borough Homes and Two Rivers Housing - are involved in the GTFF scheme.