Stroud canal restoration project granted £100,000 for dredging work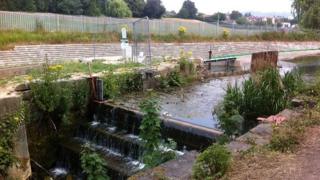 A project to restore part of the Stroudwater Canal in Gloucestershire has been given £100,000.
The Viola Environmental Trust has given the grant to Stroud District Council so it can dredge a 320m section between Wallbridge Lock and Lodgemore Bridge.
The aim is to eventually link the Gloucester Sharpness Canal to the River Thames.
Councillor Simon Pickering, chair of the council's Environment committee, said it was a "crucial bit of work".
"If anybody has walked along the canal from the centre of Stroud down to Lodgemore Bridge... there is a bit there that is all completely clogged up with vegetation and silt that's built up since it's been closed since the 1950s and this funding is to clear that section," Mr Pickering explained.
The trust said the grant would be used to contribute to the Cotswold Canals Partnership's £20m vision to restore the canals, which has been paid for mainly through the Heritage Lottery Fund.
It will now work with the council to finalise the details of the project, including its start date.
The restoration of the Cotswold Canals, the seven mile-long (12 km) Stroudwater Navigation and the 29 mile-long (46km) Thames and Severn Canal, will see the connection of the River Thames and the River Severn for the first time in more than 70 years.