Campaigners object to lap dancing club in Cheltenham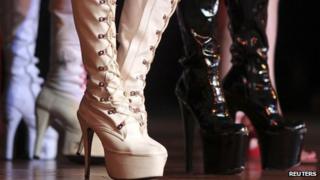 About 50 people have attended a meeting to voice their concerns over plans for a lap dancing club in Cheltenham.
Bath Road Property have applied for a sexual entertainment venue licence for the Voodoo club in Bath Road.
Campaigners say it would not be an appropriate venue, it would be immoral, and they fear for the safety of women passing by late at night.
Cheltenham Borough Council is due to decide whether or not to allow the club at a meeting on 7 February.
The application was discussed at a meeting called by Bath Road Property on Wednesday evening.
If the licence is granted the venue would be re-branded as the Diamond Gentleman's Club and would be the first permanent sexual entertainment venue in the town since the Blue Room closed down about two years ago.
Director of Bath Road Property, Nigel Blair, told the meeting there was a demand for the type of venue.
Cheltenham's Liberal Democrat MP Martin Horwood said he was against the plans on the grounds of public nuisance and protection of children from harm.
"If people are feeling uncomfortable about it, and having to take a different route or avoid that venue, then I think that counts as a public nuisance and I don't think this should go ahead," he said.
The borough council has received 196 objections to the plans.