A417 campaign secures 1,000 pledges within a week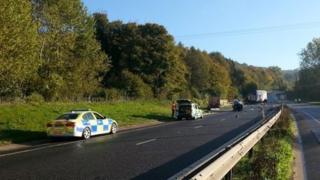 A campaign to secure funding for a "missing link" on the A417 near Gloucester has attracted more than 1,000 pledges of support within a week.
The county council wants the 5km (3 mile) stretch of road near Birdlip to be added to the Highways Agency's list of road scheme priorities.
A spokesman said adding the road, dubbed the A417 loop, will improve the chance of getting funding of £250m.
The route, which connects the M4 to the M5, is used by 34,000 vehicles daily.
Councillor Mark Hawthorne, leader of Gloucestershire County Council, said he was delighted that more than 1,000 people had already backed the campaign.
"This is our one chance to show the government how important this scheme is to our county.
"Now is the time for us to make our case heard.
"We firmly believe the A417 loop is the way forward and we have to make sure the government knows we're serious."
The bottleneck stretch of road is the only section of single carriageway on the route connecting the M4 and the M5.
More than 340 people have been killed or injured on the road in the past 15 years.
Three people were killed on the road in one day, last November.
The A417 loop would be a dual carriageway bypass and has been identified as a possible solution to the problem.
The Highways Agency is due to announce its future road scheme priorities at the end of March.