Gloucestershire soldiers' bid to break simultaneous egg dipping record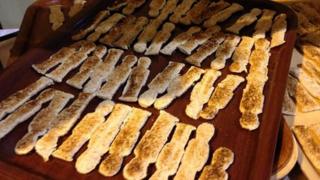 Troops in Gloucestershire have dipped over 150 egg soldiers simultaneously in a bid to break a world record.
At 10:00 GMT, 179 soldiers from HQ Allied Rapid Reaction Corps in unison dunked their toast soldiers into soft-boiled eggs at Imjin Barracks.
The current record of 100 dips in unison was set by the Coldstream Guards and Grenadiers in 2012.
Evidence will be sent to Guinness World Records, which is expected to verify the claim within the next few weeks.
The event was organised to raise awareness of the childhood bereavement charity Winston's Wish, based in Cheltenham.
In preparation for the attempt, 300 eggs were soft-boiled for exactly two minutes and 15 seconds while 50 loaves - 300 slices - of bread were toasted by a catering team.
'Dip, eat, dip'
Then, with the troops lined up at tables in the camp's gymnasium, the order was given by a commanding officer to "dip, eat, dip".
The record attempt took place in support of childhood bereavement charity Winston's Wish.
The charity's Natalie Norman said despite it being over in seconds, it had been "tense".
"It was an amazing atmosphere and to watch them all doing it was unbelievable," she said.
"We had 179 soldiers, dipping and eating, so fingers crossed it was all a success and a good result."