Gustav Holst's former home to be restored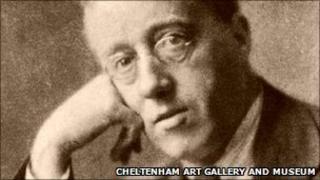 Paint samples from Gustav Holst's Cheltenham home have been analysed to establish their original colour.
Years of paint was scraped away by paint historian Lisa Oestricher at the Holst Birthplace Museum as part of redevelopment plans.
A museum spokesman said it found the walls of the composer's boyhood home were a "dull shade of greenish blue" and the woodwork regrained.
Specialists will now recreate the look in the museum's hall and landing.
Holst, probably most famous for his orchestral suite The Planets, was born in the modest terraced house in 1874 and lived there until his mother's death in 1882
Funded through a grant from Gloucestershire County Council, the museum commissioned Ms Oestricher to determine the type and colour of paint used in the house during his lifetime.
Curator Laura Kinnear, said: "It is exciting to know that, thanks to Lisa's help, we will be able to sympathetically restore the museum."
The museum is due to reopen on 11 February with a year-long celebration of the 100th anniversary of The Planets.