Cheltenham lapdancing club boss 'lied' about kidnap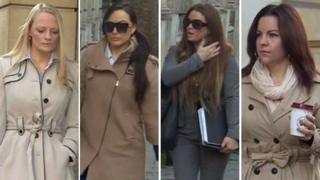 A nightclub boss who claimed he was kidnapped by three lapdancers and their manager "lied" to avoid paying them what they were owed, a court has heard.
The women, who were working during the National Hunt Festival in Cheltenham, deny the charge of kidnapping Curtis Woodman on 3 September 2012.
Charlotte Devaney, 34, said his claims of being surrounded and bundled into a car were "one million per cent untrue".
Bristol Crown Court heard he had refused to pay them £42,000.
The court heard Mr Woodman, 34, did not pay the women after they worked at his pop-up nightclub during the Cheltenham Festival in March 2012.
He said this was because they had stripped off, which was against the club's licence and their contracts, which stipulated they would wear "bikinis and nipple tassles at all times", and led to it being closed down.
'Very happy'
Mr Woodman had not secured a sexual entertainment licence and only had a standard licence, which allowed lapdancing for one night only.
Ms Devaney said: "There was lapdancing with nipple tassles. Neither Curtis or Deano Jouni [Mr Woodman's business partner] did anything to stop that."
She told the court one customer had spent £42,000 on lap dancing on the club's second night.
She said: "Curtis was very happy for him to be spending his money."
Licensing officers found women breaching the licence on the second night, and closed the club on the third night when they found rules were still being broken.
Charlotte Devaney said Mr Woodman and his business partner quickly "vanished" and she was left with unpaid staff members.
She told the court she had called both men over the next few months and after receiving "excuses", she said she went to see them in Cheltenham.
Ms Devaney said: "It was basically just a bunch of angry women with their rolling pins out. We didn't know what was waiting for us in Cheltenham, we were scared."
'Could have walked away'
The court was told Devaney, three lapdancers, Mandy Cool, 29, Stephanie Pye, 31, and Rachel Goodchild, 24, and two men drove to meet Curtis Woodman on 3 September 2012.
Ms Devaney said one of the women, Ms Cool, brought her boyfriend, Robert Morris, 27, and his brother, Alex Morris, 23, for their "protection".
The court was told earlier the group had allegedly forced Mr Woodman into a car, with the brothers sitting either side of him.
Ms Devaney said Mr Woodman had directed the group round Cheltenham and kept arranging to meet his business partner, who had £30,000 of the money, but said he did not appear.
Mr Woodman claims he was then robbed of £60 in cash, his £4,650 Breitling watch and forced to transfer £4,800 to Ms Devaney in the two-hour incident.
But Ms Devaney said he had agreed to transfer the money as part payment for that owed to the women and she said "he could have walked away at any time".
She said she believed Mr Woodman had "invented" the kidnap to avoid paying the women.
She told the court: "He has lied. To this day, no-one has had a penny of that money."
All six defendants deny the kidnapping charges against them and the Morris brothers deny a further charge of robbery.
The trial continues.