Cheltenham's red phone boxes to be turned into art galleries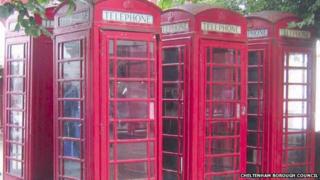 A project to transform ten of Cheltenham's historic phone boxes into miniature art galleries has been given the go ahead.
The boxes will be removed and restored before being returned to their original positions in the town centre and used for art installations.
The Grade II listed phone boxes date back to 1935.
Work on the new miniature art galleries is expected to be completed by the end of this year.
The phone boxes have been on the Promenade in Cheltenham since the 1960s but have gradually fallen into disrepair.
Now, under the BT adopt-a-kiosk programme, Cheltenham Borough Council has taken over the boxes and will give them a new lease of life as art installations.
Cost £1
Howard Barber, from the council, said: "The phone boxes are a much-loved British institution and we're so pleased to be able to restore them to their former glory.
"It's great to have been able to find a new purpose for them as their use has declined significantly over the years. Using them to display art has been a popular idea with the public, and the new Wilson Art Gallery and Museum have embraced this opportunity to use the boxes to bring 'art to the street."
According to BT figures, an average of just one call every two hours was made over a 12 month period from the group of kiosks.
The council bought the boxes from BT for £1 and plan to start the restoration process as soon as possible.
They will then be taken off site and stripped out, repainted and rebuilt with as many original features retained before they are reinstated to their original positions.
The budget for the work is approximately £22,000 which is being met by the Public Art Fund. Cheltenham Borough Council is contributing around £15,000 to the project.
Mr Barber said the project is part of a wider regeneration plan for the whole area: "This is all part of planned works to improve Cheltenham town centre, along with enhanced quality footpath replacements along the promenade, new way finding signage to help pedestrians navigate around the town, the second phase of the Brewery development and the plans for Boots corner."