Increase in log theft from Gloucestershire woodlands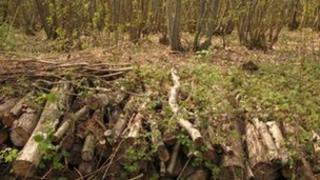 The large-scale theft of timber from woodlands in Gloucestershire has increased, according to an organisation which looks after woodland habitat.
A spokesman for the Woodland Trust said the problem had grown in recent months, because of the "biting economic climate".
In some areas van loads of timber have been removed from woods.
Conservationists say dead wood left on the ground is an important part of the habitat.
The Woodland Trust's Malcolm Allen said: "It does seem to be getting worse. There seems to be an ongoing increasing bite caused by the economic climate and people are tending to get into a self-help regime.
"There does seem to have been a continuity over a number of years of people taking small amounts, but now it tends to be increasing and becoming a trend.
"It's not just individuals putting a couple of logs in boot of their car on the way home, it's actually businesses arriving with equipment and taking large loads of timber."
Mr Allen said that taking anything without the owner's permission is theft.
"It may well be woodland owners are trying to make money from selling that timber, and any profit is usually ploughed back into woodland management," he added.
Neil Lodge from Gloucestershire Wildlife Trust said: "The reason we leave wood in the woodland is mainly for dead wood habitats.
"We try and educate people as much as possible about how valuable the dead wood, particularly the standing dead wood, is.
"It's not just there looking a mess on the woodland floor, it's there for a reason."
Two years ago the National Trust said the large-scale theft of logs from woodland it manages in the county could be due to an increase in the use of wood-burning stoves because of high gas prices.