Cheltenham Axiom: Benefactor issues community plea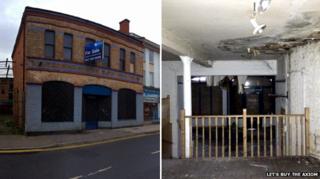 Benefactors who want to fund the restoration of a derelict arts centre in Cheltenham have pleaded with other bidders to let it become community-run.
Wealthy local resident Hekmat Kaveh, 54, has offered to pay for the purchase and renovation of the old Axiom site.
Mr and Mrs Kaveh say they have put in a cash bid above the asking price of £500,000, which is being considered.
He followed it with a plea to other developers to allow this one building to remain public.
The philanthropist and his wife Haleh - whose identities were initially kept anonymous - live in Pittville, a short walk from the site which has lain derelict since it closed 13 years ago.
Mr Kaveh said he had become involved due to a "combination of things", highlighting his interest as a retired architect along with his interest in the arts and education.
"In addition it is a building I have known for most of my adult life, and I would love to see it come back into community use," he said.
It has previously been estimated that it would cost more than £500,000 to buy the site and £300,000 to refurbish it.
'Concern understood'
Mr Kaveh suggested there was also strong interest in the site from the commercial developer, which is spending £65m on turning the neighbouring former Odeon cinema complex into shops and homes.
He said: "What we have in mind, I don't believe, would jeopardise anything they are doing.
"I can understand their concern that they have a block and a little piece of it might not be owned by them.
"We want to reassure them - all we want to do is effectively use this for the community, and I hope we can work together with the developer."
He suggested the doors of the restored arts centre could be open in approximately two years.