Cheltenham lapdancing club boss 'a cowboy'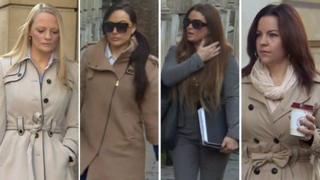 A nightclub boss who was allegedly kidnapped by three lapdancers ran his Cheltenham club like a "cowboy", a court has been told.
Four women are accused of kidnapping Curtis Woodman in September 2012 after he allegedly failed to pay them £42,000 for working in his club.
In Bristol Crown Court Mr Woodman was accused of "trying to skirt round the rules and blame the girls".
The women - three lapdancers and their manager - deny the charges.
'A nightmare'
Mr Woodman had employed Mandy Cool, 29; Rachel Goodchild, 24; Stephanie Pye, 31, and their manager Charlotte Devaney, 34, to work for him at a club he rented during the National Hunt Festival, the jury was told.
Two brothers who accompanied the women - Robert Morris, 27, and Alexander Morris, 23 - deny charges of robbery and kidnap.
Mr Woodman's business partner, bodybuilder Deano Jouni, told the jury the temporary venture at the Embassy Club in Cheltenham, had been set up correctly, but it was "a nightmare doing the whole entire event".
He said police had shut the club down when the women broke contracts under which they agreed to wear bikinis and nipple tassels at all times.
But in cross-examination, Mr Morris' defence lawyer, Khalid Missouri, described Mr Jouni and Mr Woodman as "a couple of cowboys".
"You were not running a proper establishment. You were trying to skirt round the rules and blame the girls," said Mr Missouri.
Mr Jouni, who has 10 years experience in the lapdancing industry, denied they were cowboys and said they had worked with solicitors, police and the local council in the setting-up of the club.
It is alleged that the women and the Morris brothers drove to Mr Woodman's work in Tewkesbury where he was forced into a car, assaulted and robbed.
The trial continues.