Gloucester Cathedral 'should be heritage site'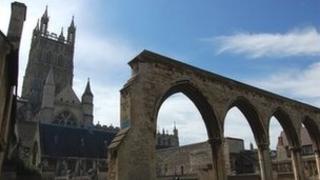 Plans to propose Gloucester Cathedral for Unesco World Heritage Site recognition are to be discussed by the city council.
It will hold a debate on 23 January following a motion from Liberal Democrat councillor Jeremy Hilton.
There are 16 world heritage sites in England, including Canterbury Cathedral and Westminster Abbey.
The Department of Culture, Media and Sport is responsible for the nomination of UK sites.
Gloucester Cathedral was built between 1089 and 1499 and has stood in the heart of the city for nearly 1,000 years.
In 1216, Henry III, who had succeeded to the throne at the age of nine, was crowned in the building.
In 1327, King Edward II, who had died in Berkeley Castle was buried there and in 1541 King Henry VIII established the cathedral as the mother church of the new Diocese of Gloucester.
'Magnificent cathedral'
In more recent years it has served as a backdrop of a number of films and TV dramas.
The historic cathedral cloisters were transformed into the corridors of Hogwart's School in the Harry Potter films.
And in 2008 the cathedral was used by BBC Wales as a location for the Doctor Who Christmas special.
Mr Hilton said: "We should seriously consider bidding for Gloucester Cathedral to become a world heritage site.
"This would be a prestigious designation and it would help create a sense of pride for everyone who lives in Gloucester."
Mr Hilton called on the council to "be bold and make a bid to the Department of Culture, Media and Sport".
His motion has been backed by councillor Declan Wilson.
"Our proposal also mentions Project Pilgrim that will see £5m invested in the cathedral building and grounds to improve visitor experience," he said.
"When I first moved to Gloucester, I was impressed by the magnificence of the cathedral. It is one of the most impressive in Europe."