Repairs to M5 bridge near Gloucester begin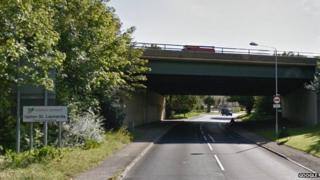 Repair work is due to begin on a damaged motorway bridge on the M5 near Gloucester.
The Highways Agency said the deck of the 40-year-old bridge, over the B4073 Painswick Road, needs to be replaced because of concrete damage.
Lane closures and will affect the motorway from Monday, a spokesman said.
The project, which will also see repairs to the foundations of three other nearby bridges, will last until March 2015 and will cost £4.8m.
Dave Sledge from the Highways Agency said: "The work is essential to prolong the life of the bridges.
"It is a very full programme, but it has been planned very carefully so that we can undertake a number of schemes at the same time, which will significantly reduce the overall disruption."