Cheltenham lapdancers deny kidnapping club boss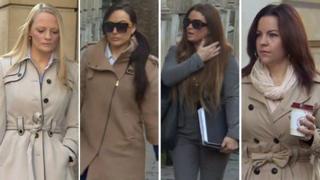 Three lapdancers and their manager kidnapped a club boss after he failed to pay them £42,000, a court has heard.
The women, who were working during the National Hunt Festival in Cheltenham, are accused of kidnapping Curtis Woodman on 3 September 2012.
Mr Woodman employed them at a club he rented, Bristol Crown Court heard.
Mandy Cool, Rachel Goodchild, Stephanie Pye, along with manager Charlotte Devaney and two men accused of acting as their "heavies", deny the charges.
Mr Woodman used the Embassy Club in Cheltenham to provide "entertainment" for race-goers during the March festival.
Ms Devaney, 34, from London, arranged for a number of women to work there as hostesses and dancers.
The club failed to secure a lapdancing licence and the women signed contracts agreeing they would wear "bikinis and nipple tassels at all times".
'Broke their contracts'
But when the club opened, some of the women "insisted on taking their clothes off" and it was shut down by officials, the jury heard.
Prosecuting, Martin Steen said the women were expecting to have their share of a £42,000 payment, which was made by credit card from one customer.
But Mr Woodman felt the women had broken their contracts and were not entitled to keep the money.
Ms Devaney chased Mr Woodman for the "debt" before visiting a police station on 3 September, where she was advised to take civil action.
But later that day, Ms Devaney, along with dancers Ms Cool, 29, Ms Pye, 31 and Ms Goodchild, 24, met Alexander and Robert Morris and headed to Mr Woodman's work in Tewkesbury.
They allegedly forced Mr Woodman into Miss Davey's BMW One Series car, with the brothers sitting either side of him.
Alexander Morris had a knife and Mr Woodman was forced to hand over his Breitling watch, worth £4,800, the jury was told.
He was then allegedly hit twice in the face and had his phone confiscated.
Threats to pay
Mr Woodman was persuaded to ring his bank and arrange for £4,800 to be transferred into Ms Devaney's account, Mr Steen said.
During the ordeal Mr Woodman managed to contact a business partner who phoned the police.
The Morris brothers, Ms Cool and Ms Goodchild were arrested at 20:30 BST on the A34 in Hampshire.
Ms Devaney was arrested the following day and Ms Pye handed herself into a police station later.
Alexander Morris, from Southampton, has admitted carrying a knife on the day of the alleged kidnap.
He denies a charge of robbery, along with Robert Morris, also from Southampton, concerning Mr Woodman's watch, and a further charge of robbery for £60.
Ms Devaney, from London, Ms Pye, from Sutton Coldfield, Ms Cool and Ms Goodchild, both from Southampton, each deny a charge of kidnap.
The jury was played a video of a police interview in which Mr Woodman said he had been "bundled into a car" by the group.
"They said 'right, we are taking you off to have a talk'," Mr Woodman said.
'Will Smith or Craig David'
"Charlotte was shouting at me. They were saying 'where's my money, where's my money' and I said I hadn't got any money.
"One of the blokes, I would describe as looking like Will Smith or Craig David, he hit me a few times throughout the ordeal."
Mr Woodman said he was dumped on a residential street after the kidnap, which lasted for about two and a half hours.
He said he rented the nightclub during the week of the Cheltenham Festival, but he claimed the nightclub's owner had failed to secure the correct licence for lapdancing despite dancers being already hired.
"Charlotte was our house-mum, in charge of all the girls," he said. "She took what they called house fees from the girls.
"A lot of the girls earned a lot of money from working that Monday, Tuesday and Wednesday."
Mr Woodman said problems arose on the Tuesday, when a customer spent about £40,000 on his debit card.
"If you have ever asked a stripper to keep her clothes on when she is working, it doesn't happen," he told the court.
"I was constantly bombarding them 'put your clothes back on, we are going to get shut down'.
"You try and keep 60 girls in check. On the Wednesday we had a team meeting before we started, we told the girls to go into town and buy clothes."
Mr Woodman said the women had signed contracts agreeing to forfeit their commissions if they did not keep to the rules, including wearing clothes.
He said they were not entitled to the money because they breached the contract.
The trial continues.