Campaigners to try to buy Battle of Tewkesbury site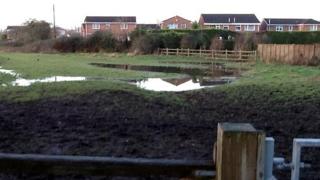 Campaigners wanting to protect a 15th Century Wars of the Roses battlefield have agreed to try to buy it.
At a public meeting on Monday evening it was agreed the community would put in a bid for Gastons Field.
The land where the Battle of Tewkesbury was fought is due to be sold in a sealed bids auction, with a deadline of 3 February.
Locals have said they are concerned the site could be built on eventually if it is sold to a developer.
Steve Goodchild from Tewkesbury Battlefield Society said people attending the "packed" meeting unanimously agreed they should submit a bid.
"We've got to find a body which is prepared to own the field which will meet our requirements as a charity, and something that will protect the field - not just for the next 20 years, but for the next 500 years," he said.
'Feels odd'
Mr Goodchild said money could be raised through grants and bridging loans.
Chair of Tewkesbury School's trust fund and chair of the school's governors, Howard Davis, said the trust wanted to sell the land because it was "odd" for it to own it.
"This is the only physical asset that the trust owns locally.
"It feels odd that the governors of the school should be trying to manage a piece of farmland - the only piece of land that we've got left.
"We do manage money as a school so it's an opportunity to get the monetary value of the land."
Mr Davis said the land was not in the area's Joint Core Strategy which earmarks areas for development up to 2031.
"For us planning isn't the issue - it's about trying to have cash to use and manage rather than being land owners of a piece of agricultural land ," he said.
Campaigners have said they fear the land could be bought by a developer and built on eventually.
In 1999 plans to build more than 50 houses on part of the site were refused following a public inquiry.