Gloucestershire graffiti crime drops by 90% in six years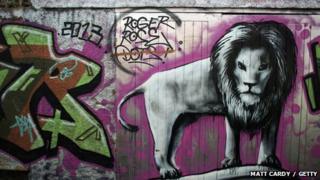 Graffiti crime in Gloucestershire has dropped by 90% in six years, the BBC has learned.
Figures obtained by BBC Gloucestershire suggest there were 16 cases of graffiti reported in the county in 2013. In 2007, there were almost 160.
Gloucestershire Police said it was pleased there had been a "marked decline" in graffiti in recent years.
A spokesman said the force "worked hard" with partner agencies to investigate cases of graffiti.
But ex-graffiti artist Danny McKenzie, from Gloucester, thinks the rise in social media is one reason for the decrease.
He said: "Since the internet, people have so many other ways of expressing."
Mr McKenzie said despite the fall in cases of graffiti in the county, he would like to see legally-approved graffiti walls set up in Gloucester city centre.
He said: "Some of the walls and some of the places just look dowdy, and could do with sprucing up.
"That's the philosophy I've always had as an artist. I see a blank wall and it's like a canvas. But not on the side of someone's house."
Gloucester City Council leader Paul James said he wanted to see more legal graffiti in the city and has been looking into setting up a street art festival.
A similar event, See No Evil, has been taking place in Bristol since 2011.
He said: "We are having discussions with artists and potential funders for a festival which could take place at some point this year, and would be a great addition to our portfolio of events."
Is graffiti a problem in Gloucestershire? Send your pictures of how it affects the area to gloucestershire@bbc.co.uk and we'll feature the best here.
Follow BBC Gloucestershire on Twitter@bbcglos.