Gloucestershire severe flood warnings are removed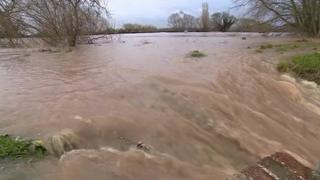 The three severe flood warnings in Gloucestershire have been removed.
The Environment Agency downgraded the severe warnings after the tidal surge on Saturday morning.
The advice had been to stay away from the banks of the River Severn which has seen tidal surges over the last two days.
Newnham, Elmore, Minsterworth and Quedgley were the areas most severely affected by flooding.
Several homes were flooded on Friday when the River Severn burst its banks owing to a combination of high tides and the Severn Bore.
A total of 18 flood warnings have been issued in the county.
'Check defences'
Chris Bainger, from the Environment Agency, said: "The most important thing we will be doing is my colleagues in flood defence teams are going out there to check the defences to make sure there's been no damage to them."
There were also temporary road closures on the A48 and A417 at Maisemore overnight.
Jason Humm, from Gloucestershire Highways, said: "Certainly we would expect to close the A48 now and again at high tide periods, and the A417 I think will be touch and go for the next couple of days.
"High river levels generally can affect a number of smaller local roads that are close to rivers and, typically, most of our communities and rural areas will be aware of which lanes they are."