Sheepscombe's Laurie Lee Field cricket pitch future secured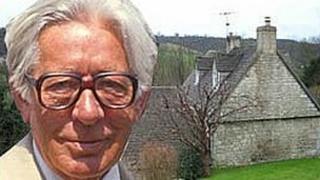 A cricket field, once owned by author Laurie Lee, has been bought by the Gloucestershire club which uses it.
Sheepscombe Cricket Club was given long-term use of the Laurie Lee field in 1971, when the Cider With Rosie author purchased it.
The club has now raised £25,000 to pay for the pitch, to secure its future.
A grant of a further £25,000 from the England and Wales Cricket Board (ECB) will allow for improvements to be made to the clubhouse and other facilities.
Club chairman Elisabeth Skinner said it was "a fantastic result both for the club and for the village".
The purchase meant they could "safeguard the future of village cricket for generations to come".
The club is planning to refurbish the pavilion on the site where it has played cricket for almost 120 years.
Mr Lee's uncles were founder members of the club, keen players and supporters.
He lived in the nearby village of Slad until his death in 1997.