Campaign launched to buy historic Battle of Tewkesbury site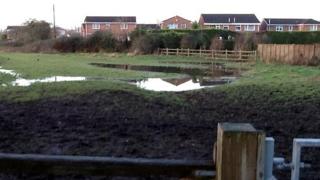 The site of a 15th Century battle during the Wars of the Roses has been put up for sale.
The land where the Battle of Tewkesbury was fought is due to be sold to the highest bidder in a sealed bids auction, with a deadline of 3 February.
Campaigners say they fear the site could be built on after it was put up for sale by its owners, the trustees of Tewkesbury School's trust fund.
Tewkesbury Battlefield Society wants to raise money to buy the site.
Gastons Fields were at the centre of the Wars of the Roses battle in 1471 when Yorkist King Edward IV's forces triumphed over the Lancastrians.
Steve Goodchild from the society said: "The concern is that developers may want to buy the land and may want to pay much more than any going rate.
'Historically important'
"The method of sale through sealed tenders makes it almost impossible for us to decide what is a sensible bid.
"If it goes to, say, £200,000, raising the money would be quite difficult."
Mr Goodchild said if the society bought the land, it would tidy up the site, including replacing hedges, mowing the grass, cutting back scrub, and restoring a derelict animal shelter.
"We would also create better walks through the field to allow people to use it better, and from the battle's point of view [we would provide] better interpretation so that people can understand what went on," he added.
The site is on the English Heritage Register of Historic Battlefields, which lists 43 historically important English battlefield sites.
It means the local planning authority must take into account the historical importance of the site when determining whether or not to grant planning permission.
In 1999 plans to build more than 50 houses on part of the site were refused following a public inquiry.