Jamie McDonald: Cross-Canada runner's bag found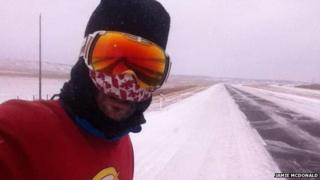 A British fundraiser who was attacked and robbed while he was in Canada for a charity running challenge has got his belongings back.
Jamie McDonald, 27, from Gloucester, began running unaided from Canada's east to the west coast - the equivalent of about 200 marathons - in March.
He said he was attacked during New Year's Eve celebrations in Banff, Alberta, in an unprovoked mugging.
Mr McDonald said his bag was found close to the scene of the attack.
The runner, who suffered blows to the head in the incident, said the bag contained film footage of his journey as well as cash and credit cards.
He had appealed on social networking sites for the items to be returned and said his plea on Facebook and Twitter got an immediate response from both sides of the Atlantic, with well-wishers pledging donations to the children's charities he is supporting.
Writing on his blog, he said: "Having spent a crazy day speaking to the police, I wanted to update everybody who's been kind enough to read, share and care.
"My bag, including my possessions, priceless hours of footage of my journey across Canada and my wallet, amongst other things, has been found.
"Some of you may know that I was attacked in the early hours of New Year's Day in Banff and that I left quickly after the unprovoked attack, leaving my bag. I was told it had been taken."
But he said whoever took his bag appeared to have had a "change of mind" as it was found nearby.
Mr McDonald is carrying out the fundraising challenge to show gratitude for the care he received as a child when he suffered from a debilitating immune deficiency and a rare spinal condition called syringomyelia.
The fundraiser, who is running most of the 5,000 miles dressed as comic book superhero The Flash, had hoped to finish in time for Christmas but injuries and bad weather have caused delays, and he has the final quarter from Banff through the Rocky Mountains to Vancouver left to run.
He has so far raised almost £70,000 for children's charities including Great Ormond Street Hospital and Gloucestershire's Pied Piper Appeal.
Commenting on the extra donations after the attack, he said: "I wish the story didn't have to have an unfortunate incident in order to reach people, but I'm glad in a way because the more people that know about my journey, the more children it might be able to help.
"As the saying goes, every cloud has a silver lining, and the additional donations as a result of people hearing about this are hugely appreciated."