Atlantic row 'hardest thing ever' for polo players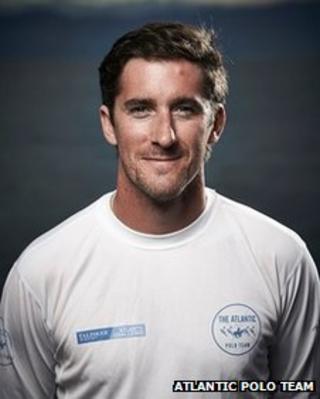 A viscount from Gloucestershire who is mid-way through rowing across the Atlantic ocean says he would not wish the experience upon his worst enemy.
Polo player Bobby Dundas, 29, and his team have just passed the half-way mark in the 3,000-nautical-mile race from the Canary Islands to Antigua.
They have been rowing since 4 December with Mr Dundas claiming it is the hardest thing he has ever done.
Thirteen teams are still competing in the Talisker Whisky Atlantic Challenge.
'Surfing giant waves'
During the race, which is for charity, no outside support is allowed and no extra supplies such as food and water are given to the teams.
Mr Dundas' Atlantic Polo Team is near the Row 2 Recovery team of British servicemen, two of whom lost limbs in Afghanistan.
Sharing the 21ft (7m) boat with Mr Dundas is former England Polo Team captain Henry Brett, 38, polo players James Glasson, 39, and Fergus Scholes, 30.
"I knew I wouldn't know what to expect, but this certainly is putting us all to the test both mentally and physically and we continually have to remind ourselves why we are doing this," said Wiltshire-raised Mr Dundas, who plays polo professionally in Gloucestershire.
"We are enduring seas sickness, blisters, agoraphobia and claustrophobia combined with sleep deprivation and hunger.
"We row in pairs three hours on and three hours off continually and have to endure the seas at night for 12 hours where we are surfing giant waves in sheer darkness.
"This is a huge challenge and we are just hoping we don't get rolled or capsize as that is the last thing that can happen to us now."
The team is expected to arrive in Antigua at the end of January having spent two months unaided at sea.