Cheltenham Axiom centre: Mystery benefactor to fund bid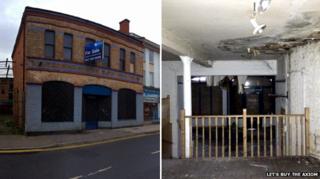 A mystery benefactor has come forward to help save a former arts and music venue in Cheltenham for community use.
The philanthropist has offered to fund the purchase and renovation of the former Axiom Centre which has been derelict since it closed 13 years ago.
Campaigner Andrew Lansley said it was a "very welcome twist" and a wonderful Christmas present to the town.
Last week, the council rejected a bid from the Let's Buy the Axiom group to protect the site for community use.
'Controversy and debate'
The agency which is marketing the site, DTZ, said it had received "a number of offers" in the last month but was continuing to offer the centre for sale.
Mr Lansley, who is also a borough councillor and university lecturer, said he could not reveal the identity of the philanthropist but it was an "exceptionally kind resident" of the town.
He said: "It's a very welcome twist in a tale of a building which has had success, controversy and debate for over 20 years now.
"We've been approached, very seriously, by a philanthropist who would like to purchase the building, pay for redevelopment, and then gift that for community use to the people of this town."
The Let's Buy the Axiom group wants to see the building turned into an arts and music centre once more.
It has been estimated it would cost more than £500,000 to buy the site and £300,000 to refurbish it.
'No promises'
Andrew North, chief executive of Cheltenham Borough Council, said the authority would be as supportive as it could be in terms of planning and conservation issues.
But he did question whether a new community arts centre would be able to make a profit as the town was "quite crowded".
"Obviously the council found it difficult, which is why we closed it and sold it 13 years ago. Maybe things have changed," he said.