Stroud farmers' market tender put on hold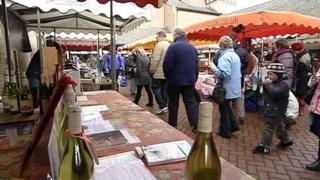 Plans to put the contract to run Stroud farmers' market out to tender have been put on hold.
Stroud District Council invited new bidders to run the popular weekly market, which has been run on Saturdays since 1999.
More than 2,000 local traders and shoppers signed a petition against the idea.
A council spokesman said the current tender was being stopped because of concerns raised among traders.
Council leader Geoff Wheeler said: "There has been a great deal of interest and concern about the tender to re-let Stroud farmers' market, in particular from stallholders.
"To enable the council to address the concerns which have been raised, the current tender is being stopped pending additional consultation with stakeholders including the market stallholders."
The council has asked for a report into possible future options for the running of the market to be submitted next February.
Many traders say they are happy with the way the market has been run by Made in Stroud Ltd for the last 14 years, and fear any change could lead to its demise.
It regularly attracts more than 7,000 visitors.
Earlier this year the market jointly won the National Farmers' Retail and Markets Association (FARMA) Farmers' Market of the Year award.