South Korea to Cheltenham: Cyclist completes 9,000 mile trek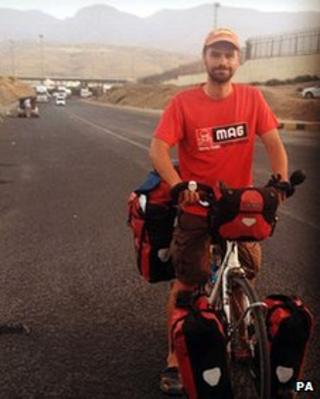 A man has completed a 9,000 mile charity cycle ride from South Korea to his home in Cheltenham.
Paul Lombard took nine months to travel from Seoul, where he had been teaching, through China, central Asia, the Middle East and Europe.
The ride saw him cross the Gobi Desert, Iran and mountains in southern Turkey.
The 29-year-old said he had not been "a keen cyclist before the trip" but had wanted to travel home over land, so decided to buy a bike to do it.
He said cycling was "just an idea to travel in a different way".
Mr Lombard said the scariest moment had been in Iraq when he heard a bomb had exploded on his planned route, which forced him to make a last-minute change.
He said the hardest part was coping with the heat in central Asia.
"It was very hot in that region," he said.
"In Uzbekistan in particular, where it was 50 degrees, even the local people were saying it was unnaturally hot.
"It was too hot to cycle in the day, so I would find somewhere cool to rest and continued with my journey at night."
Mr Lombard said the lowest point of the trip was having to wait for two months to get a visa to enter Iran, which was the only time he had considered turning back.
The trip has raised more than £1,400 for the Mines Advisory Group charity, which clears landmines and bombs in countries affected by conflict.