Cheltenham pubs and clubs to pay late-night levy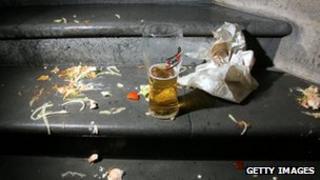 Pubs and clubs in Cheltenham are to be charged a late night tax to help pay for police to deal with alcohol-related crime and for street cleaning.
The charge of between £299 and £4,440 a year will be paid by venues selling alcohol between midnight and 06:00.
Cheltenham Borough Council voted in favour of introducing the levy by 24 votes to five. Four councillors abstained.
A petition of more than 1,000 names against the move had been handed in.
From the expected £200,000 to be raised, 70% will go to the police and 30% will be retained by the council.
The system will be introduced from next April.