Extra stop for Ashchurch to London train to continue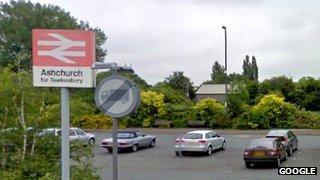 An early morning commuter train will stop at Ashchurch near Tewkesbury for at least another 12 months, after a successful trial.
First Great Western's 05:40 GMT service to London Paddington will continue to run on weekdays during 2014.
Gloucestershire County Council paid £12,000 for the extra fuel needed to slow down and speed up the train, during a year-long trial.
Campaigners had fought for three years for the extra stop to be introduced.
But funding for the fuel for the next 12 months will be paid for by First Great Western.
'Great news'
John Stretton, from the Ashchurch and Tewkesbury District Rail Promotion Group, said: "It's great news. I'd half expected them to say the trial hasn't been a success.
"One of the demands from the local populous was a direct train to London.
"We're hopeful and optimistic it will pay for itself in the future."
Simon Excell, from the county council, said the trial had been a "real asset" to local residents, especially for those living in the north of the county.
"It's also proven to be useful for those who travel from Worcester to Ashchurch and from Ashchurch to Cheltenham and Gloucester," he said.
"A passenger survey has shown that an average of 15 people a week are using the additional line to travel onward, and others are departing the train to presumably go to work in the nearby business park."