Lord Edward Somerset admits beating wife Caroline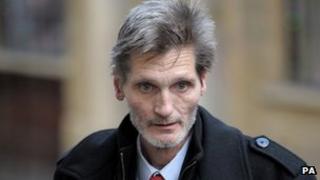 A member of an English aristocratic family who beat his wife over 22 years has been warned he could be jailed.
Lord Edward Somerset, 55, admitted four counts of assault occasioning actual bodily harm against his wife, Caroline, between 1990 and 2012.
The attacks, including scratching and hair-pulling, happened at their home on the Badminton Estate, Gloucestershire.
Bristol Crown Court heard Somerset was often on drugs or drunk. He is due to be sentenced on 6 February.
Judge Mark Horton warned Somerset the offences were "so serious a prison sentence could be imposed".
The judge said he was also considering whether a restraining order to protect Caroline from her estranged husband should be enforced.
'Very emotional'
The aristocrat, who was referred to in court simply as Edward Somerset but is the son of the Duke of Beaufort, admitted giving his wife a "deliberate and hard" kick at Essex House on the Badminton Estate between 1 January 2011 and 29 November 2011.
Somerset pleaded guilty to two further assaults, which caused bruising to his wife, on 5 October and 6 October 2012.
He also admitted assaulting her between 1 January 1990 and 31 December 2011, bruising her, scratching her and pulling her hair.
The court heard his guilty plea for that charge, covering a period of 21 years, represented "incidents of violence between the two, often in drink or drugs or both".
Prosecuting, Eleanor Laws QC said Somerset's wife was still scared of him and was seeking a restraining order.
"She would say she still has fears of this defendant because of his offending and she is in a very emotional state," said the barrister.
Representing Somerset, William Clegg QC said his client would not oppose a restraining order.
The court was also told divorce proceedings between the couple, who have two children, were set to be finalised soon.