Cheltenham gas blast couple await house rebuild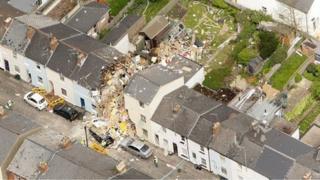 A couple whose house was destroyed in a gas explosion last year say they have been diagnosed with post-traumatic stress disorder (PTSD).
Richard Drinkwater said "frustrating and disappointing" delays to building work had led to him and his wife Sarah being diagnosed with the condition.
Work to rebuild their home in Rosehill Street, Cheltenham, only began six weeks ago after numerous setbacks.
Their home, and two others, were destroyed in May 2012.
Mr Drinkwater said he and his wife had also been diagnosed with depression and anxiety "purely because of everything that we've been through".
'Frustrating and disappointing'
The couple had hoped to move in to their new house for Christmas.
However, work to rebuild it only began six weeks ago - about eight months behind schedule - after a series of delays.
"It's been frustrating and disappointing. It's been a nightmare," said Mr Drinkwater.
"You never expect it to be this difficult. It just compounds everything.
"Where we were looking forward to spending Christmas this year [back in our home] and getting back onto our feet we haven't been able to.
"It's going to be possibly the end of April next year when the house is completed."
Betty Hodgkiss, then 81, suffered cuts and bruises in the explosion on 10 May 2012, and people in at least 10 other homes were forced to move out.
Ms Hodgkiss's home was reduced to rubble by the explosion, while the two neighbouring houses had to be demolished on safety grounds.