Stroud kayakers pass through restored Dudbridge lock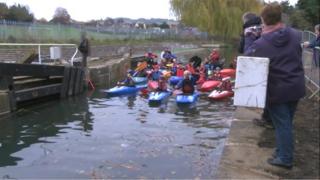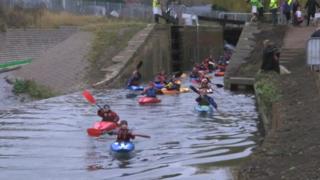 Kayaker Crystal Hulls, 10, has become the first boater for more than 70 years, to pass through a restored canal lock in Stroud, Gloucestershire.
Some 15 kayaks and canoes, paddled by young members of Stroud Canoe Club, have navigated Dudbridge Upper Lock.
The district council believes the vessels are the first to move through the lock for some 72 years.
Some £300,000 has been spent cleaning, dredging and joining the two stretches of water at the lock in Stroud.
In October, 1,300 people took an opportunity to walk inside the drained lock, which has since been filled with 500,000 litres of water.
Dudbridge Upper and Lower Locks were originally built in the 1770s, but the lower lock is still closed for further work.
They are being brought back into use as part of a major project to restore the seven-mile (12 km) Stroudwater Navigation and the 29-mile (46km) Thames and Severn Canal.