Cheltenham street pastors double Saturday patrols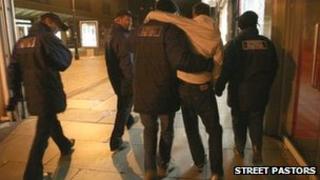 Eight new street pastors are to be commissioned in Cheltenham which will double their Saturday patrols.
The street pastor scheme, which operates across the UK, is designed to reduce night-time crime.
There are now more than 60 pastors, who take turns to patrol the streets at weekends.
Group chair Nigel Bennett, said: "Year on year, we see an increase of 20% for our resources and we continue to receive a wonderfully warm response."
The initiative was started ten years ago by the Reverend Les Isaac as a response to growing crime in some London boroughs.
In Cheltenham, the group has grown from 21 volunteers since it was set-up in December 2009.
In its first three years the group said it helped over 9,000 people, including providing first aid to 75 people and attending almost 200 anti-social incidents.