Plea to report child sex grooming signs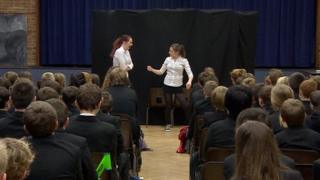 Taxi drivers in Gloucestershire are being asked to look out for potential victims of sexual grooming.
Police officers will be asking them to look out for possible abuse and report incidents to a hotline.
The Gloucestershire Safeguarding Children Board (GSCB), which is organising the scheme, is also showing a play to raise awareness of the issue.
Chair Roger Clayton said he wanted the local community to be the "eyes and ears".
He added: "We are not experiencing the sorts of problems seen in other cities like Oxford or the north.
"But we're always alive to the fact that it may be just round the corner."
He said they had introduced a screening tool 12 months ago for professionals to identify the warning signs.
He said: "We've had 75 referrals in relation to that. That's not to say there's been 75 incidences of abuse but just where there's the risk of abuse."