Berkeley named as preferred nuclear waste site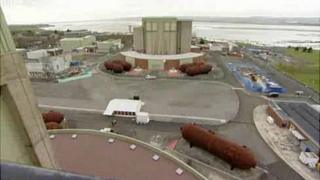 The deactivated Berkeley power station has been selected as the preferred site to store nuclear waste from the decommissioned Oldbury power plant.
The Nuclear Decommissioning Authority (NDA) has recommended the site be used as an interim Intermediate Level Waste (ILW) storage facility.
Waste would be transported by road from Oldbury to Berkeley in secure containers from 2017.
A consultation into the plan has begun and it could be approved in March.
An NDA spokesman said a total of 100 lorries would transport ILW in "safe, heavily protected boxes" between the two sites over a six-year period.
ILW includes materials such as fuel-element cladding, contaminated equipment and radioactive sludge.
John French, from the anti-nuclear campaign group Severnside Together Against Nuclear Development, said the nuclear authorities have "completely run out of ideas of what to do with such dangerous material".
"The site will have to be protected [from flooding] and guarded from terrorists for hundreds, possibly thousands of years," he said.
"There are considerable dangers, from accidents and terrorism, of transporting such dangerously radioactive material along the very small roads around Oldbury and on to the busy A38."
Berkeley Power Station in Gloucestershire was the first in the UK to be decommissioned, in 1989.
Oldbury Power Station, about 20 miles to the south west, was deactivated in February last year.