Cheltenham Axiom centre: Community group works on 'plan B'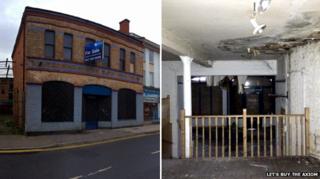 A community group wanting to restore a derelict arts venue in Cheltenham is working on a "plan B" after having a bid to protect the site rejected.
The former Axiom Centre has lain derelict since it closed 13 years ago and was put up for sale last month.
A petition with hundreds of signatures had been submitted to Cheltenham Borough Council requesting the site be listed as an asset of community value.
On Monday the authority rejected the group's nomination.
In a report to the authority, decision maker Jane Griffiths said too much time had passed since the building was last used as an arts and cultural facility.
A successful bid would have meant protection on the building's use and a six-month delay in the sale process to allow the community to find the money to make an offer.
Campaigner and councillor Andrew Lansley, a member of the Let's Buy The Axiom group, said it was "a sad day" to have the movement "dismissed so easily by those responsible for critical decisions about our town".
He added: "We have already been contacted by commercial investors who are interested in purchasing the building and working with this group to establish part of the property as a community arts hub so there is a plan B that we will be investigating as a matter of priority."
The group wants to see the building turned into an arts centre once more.
It has previously been suggested that it would cost more than £500,000 to buy the derelict site and £300,000 to refurbish it.
The Axiom closed in 2000 after concerns were raised over the way it was being run.
A number of attempts were made to revive the centre before the borough council sold it to Haysport Properties in 2005.