Gloucestershire badger cull: More than 100 traps damaged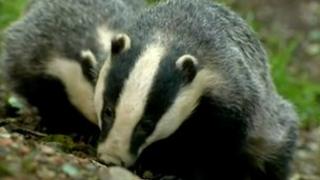 More than 100 badger capture cages have been stolen or damaged in the Gloucestershire cull zone, police said.
In response to the "spike", more officers have been deployed to areas where damage has been reported.
Anti-cull campaigners have accused the police of standing guard over traps in direct conflict of their impartiality.
But Gloucestershire Police denies the claim, saying the patrol increase is an attempt to prevent offences, such as cages being damaged, being committed.
'Changed tactics'
Insp Steve Templeton, said: "We are not guarding cages at all. We have changed our tactics a little bit."
That change is away from a general patrol of the cull zone to concentrate efforts in the areas where criminal damage has been reported.
Mr Templeton said some cages had been cut in half with bolt croppers and others had been hit with sledge hammers or flattened by people jumping on them.
Although the west Gloucestershire cull license was extended until 18 December, the use of live-capture cage trapping is only permitted until midday on Saturday.
Anti-cull protestor John Curtin, from Coventry, said he has come across "lots of cages" which are later destroyed by "pixies" - a slang term used for activists.
"Every time I hear of a cage being destroyed a warm glow goes through me and I think most people would share that," he said.
"Of course it's illegal, it's criminal damage of a piece of metal, but these are torture implements."
'Irony'
Jude Walker, a member of the Gloucestershire Against Badger Shooting group, said she did not condone criminal damage but understood the strong feeling.
She said she had heard of 24-hour police patrols near badger setts and questioned the use of "valuable police resources".
Insp Templeton said: "We are not there to stop the protestors protesting - we are there to make sure they can protest but equally that the lawful activities can take place.
"But that means we have to be out and about in the countryside, so if being out there we are keeping the odd badger underground then so be it."
In October, Natural England granted an eight-week extension to the cull after fewer animals than the original target were killed during the initial six week period.
Government ministers and the NFU say culling badgers will curb TB in cattle, but protesters assert it has little effect.