Brian May's urgent legal challenge to Gloucestershire badger cull refused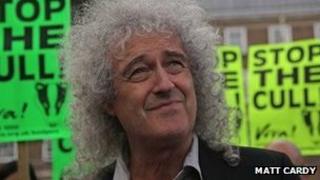 An application by rock guitarist Brian May for an urgent judicial review to try to stop the Gloucestershire badger cull has failed.
On Tuesday the Queen star's Save Me organisation launched a legal challenge at the High Court, calling for an immediate halt to culling.
The court refused to give it urgent consideration, saying it was "not easy to see" why there was urgency.
The review could still proceed at a later date.
Save Me had claimed an urgent review was needed because an extension to the cull was already in operation and the period of the extension might elapse before a formal review could be applied.
In October, Natural England granted an eight-week extension to the cull after fewer animals than the original target were killed in the initial six weeks.
In refusing the application for urgent consideration Mr Justice Ockelton, sitting as a Deputy Judge of the High Court, said it was not easy to see why there was now urgency "save because of the consequences of the cold weather, said to have led to ill treatment of badgers".
Challenge 'academic'
"There is nothing so obviously arguable in this application that justifies the stringent timetable it would impose on the defendant," he said.
He said the current licence to cull was "in form a new licence" which "appears to have been issued in conformity with the policy".
"The defendants are not shown to have had an obligation to reconsider the scientific evidence before the expiry of the experimental year."
Mr Ockelton said he appreciated that the refusal "may mean the challenge becomes academic",
The application might have had a different result if it had been made immediately after the granting of the licence, he added.
Ministers and the NFU say culling badgers will curb TB in cattle, but protesters assert it has little effect.
The eight-week extension to the cull is due to end on 18 December.