Gloucestershire coroner Alan Crickmore 'preyed on vulnerable people'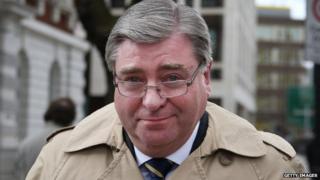 As a coroner and solicitor, Alan Crickmore was trusted with the lives and deaths of many of Gloucestershire's most vulnerable.
But, he betrayed that trust in a £2m fraud to fund his lavish lifestyle, including £45,000 spent in restaurants and £33,000 on holidays.
Crickmore also withdrew almost £100,000 in cash from credit card accounts.
"He was holidaying and dining at restaurants in a way that most people couldn't imagine," said Det Ch Insp David Selwood from Gloucestershire Constabulary.
Much of the money was taken from living clients but some was also taken from the estates of dead people - including one who suffered as a World War Two prisoner of war.
Champagne reception
Jozef Dziuma, who settled in Cheltenham after the war, used Crickmore as the sole executor of his estate.
When he died aged 77 in 1998 with no family in the UK, he left an estate of almost £57,000,
He wanted £30,000 to go charity, £5,000 to his GP and the remainder to his brother in Poland.
The charities eventually received the money more than two years after Mr Dziuma died, but his brother and the GP received nothing, with Crickmore taking more than £25,000 in costs.
At the 2007 Cheltenham Gold Cup, he spent more than £5,000 on a champagne reception and four-course meal for 12 guests to celebrate his 25th wedding anniversary.
It was paid for through a loan from one of his clients, and a personal friend, Judith Lorman. In total more than £100,000 was stolen from her in loans and in costs.
On another occasion Crickmore spent £26,000 on deposit for a house for his son.
"He was preying on vulnerable people who put their complete trust in him. He built personal relationships with some of his victims," Det Ch Insp Selwood said.
"They exchanged Christmas cards and birthday cards and gifts. When he went on holidays he would bring them back gifts.
"Little did they know that they had paid for it, because they had paid for his holidays from money he'd stolen from them."
Crickmore continued to be paid a £60,000 salary for his role as Gloucestershire coroner for almost three years, even though he had been suspended from duty at the start of the police investigation.
'Double life'
Will Windsor-Clive, cabinet member with responsibility for the coroner's service at Gloucestershire County Council, said he was "horrified" by what Crickmore had done.
He said he had wanted to sack him, but it would have been against the law to do so.
"We didn't actually employ him, he was employed by the Ministry of Justice.
"We only paid him and the Ministry of Justice would not allow us to stop his payment," he said.
"It was very frustrating. It doesn't help my budget to pay somebody for three years not to work."
Mr Windsor-Clive said Crickmore had been leading a "double life", but the councillor had great respect for the work he carried out as coroner.
"The people who worked with him have no doubt that he did a very good job for us.
"What he did in his private practice is outrageous. I'm very, very angry.
"We paid a criminal a lot of money to live the life of riley when actually he should have been in jail."