Border on sign helps speeding drivers escape fine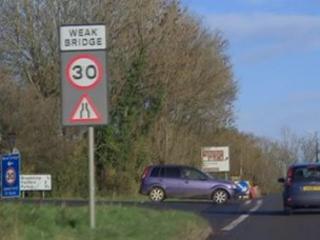 Hundreds of drivers in Gloucestershire have escaped a fine - or points on their licence - because of a mistake on a speed limit sign.
Mobile police cameras caught out nearly 500 drivers at the Berkeley rail bridge on the A38 over the past five weeks.
The speed limit on the road has been changed from 60 to 30mph (96 to 48km/h) because of the weak bridge.
But because the sign has a black border, it means the speed limit is only advisory not enforceable.
Gloucestershire County Council said it acknowledged the sign had "a small technical fault and will be replaced as soon as possible".
A spokesman also said the temporary speed limit was part of "important work to protect the structure of the rail bridge" and urged drivers to keep to it.
The new sign, which will be yellow with no border, is due to be installed next week.