'Stunning' Tewkesbury Abbey triptych unveiled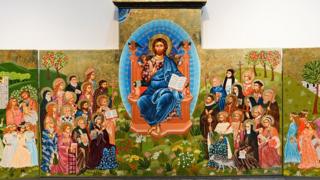 A triptych depicting Jesus Christ, Jerusalem and Tewkesbury has been unveiled at the town's abbey.
The three-part painting features images associated with the town, such as mustard flowers and horseradish plants.
The work, installed in St Edmund's Chapel, took artist Silvia Dimitrova two years to complete and was funded by The Friends of Tewkesbury Abbey.
The Reverend Paul Williams, vicar of the abbey, said it was a "stunning piece of work".
"The level of detail and the colours are absolutely beautiful and it is a spectacular addition for the abbey," he said.
The painting also features a depiction of the abbey's recently retired architect and master stone mason Neil Birdsall.
He said it was "a thrill and an honour" to be included.
Dimitrova, a Bulgarian artist who specialises in religious art using the traditional technique of icon painting, has previously completed commissions for St Paul's Cathedral in London, Oxford's Hertford College and Bishop's Palace in Wells.
The Friends of Tewkesbury Abbey preservation group raised the money to pay for the work.
Chairwoman Anne Cadbury said she was "delighted" with the triptych, which would "add to the scholarly interest in the abbey and enhance the interest in chapel".
The painting was dedicated during a service on Tuesday.