Gloucestershire council votes over A417 'road to hell'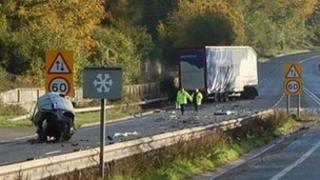 A council has voted overwhelmingly in favour of itself taking the lead in lobbying for urgent action on a "road to hell" in Gloucestershire.
The full council voted 45-1 to partner authorities and agencies for "a rapid solution" over pollution, congestion and safety concerns on the A417.
Three people were killed recently in separate crashes on the road.
The transport secretary is set to discuss the concerns with local MPs at a parliamentary meeting on Friday.
'Triple whammy'
The road is maintained by the Highways Agency, which has previously been accused by the council of "dragging its heels" over action.
More than 33,000 vehicles are estimated to use the notorious stretch, between the Cowley and Brockworth roundabouts, every day - 14% of which are HGVs.
Liberal Democrat councillor for the Cotswolds, Paul Hodgkinson, proposed the motion which was carried by the Conservative-led authority.
He has previously spoken out over the "triple whammy" of issues near the Air Balloon roundabout, leading to him dubbing it "the road to hell".
His motion said the lack of a long term solution was harming the economy and blighting the lives of nearby residents.
According to the latest Highways Agency figures, a total of 51 collisions on that stretch of road resulted in some form of injury between 2008 and 2012.
Lives were lost in three of those collisions, while three resulted in serious injury and 45 as slight injury.