Cheltenham traffic plan progresses with council approval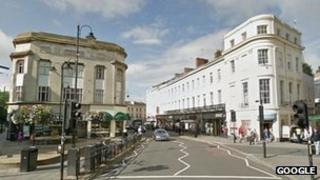 Plans to alter Cheltenham's one-way system have moved a step forward.
Proposals include restoring two-way traffic in places and restricting the use of the road passing Boots corner to buses and bikes only.
Borough councillors voted by 26 votes to nine in favour of approving the plans, with two abstentions.
Before work begins the decision still has to be formally approved by Cheltenham Borough Council's cabinet and Gloucestershire County Council.
Councillor Andrew McKinley said it was "very important" that the changes were introduced.
"I've lived in Cheltenham for 28 years and in all that time people have constantly talked about how awful the ring road was and how it was an impediment to the town.
"This is a once in a generation opportunity to change that, to make the town more functional, to make better use of the road network we have and make the town fit for the 21st Century."
The new scheme will also allow two-way traffic in Imperial Square, Oriel Road and parts of Albion Street and Clarence Street, roads which are currently part of the one-way system.
A petition against the changes received more than 1,200 signatures.